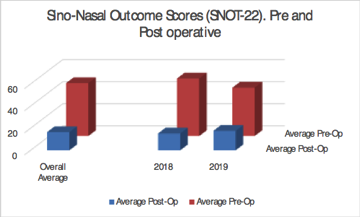 Professor Winter is aware that the most important question patients want to know is will they be better if they undergo surgery.
Selecting which patients to offer surgery to and which is the correct operation is one of the most crucial aspects of any consultation.
Professor Winter aims to advise on the best operation to get the best results. Since 2018 he has routinely been collecting data pre and post op using the Sino-Nasal Outcome Test questionnaire (SNOT-22). This is a validated self-reported outcome score for improvements in nasal symptoms. Fill out the SNOT Questionnaire.
As you will see below the there is a range of pre-operative scores some high and some low. The post-operative scores can be seen to have improved following surgery. The aim of this is to give patients an understanding of how much improvement they might expect and for Professor Winter to ensure that he continues to advise patients when surgery might be appropriate.